Spa experience on the island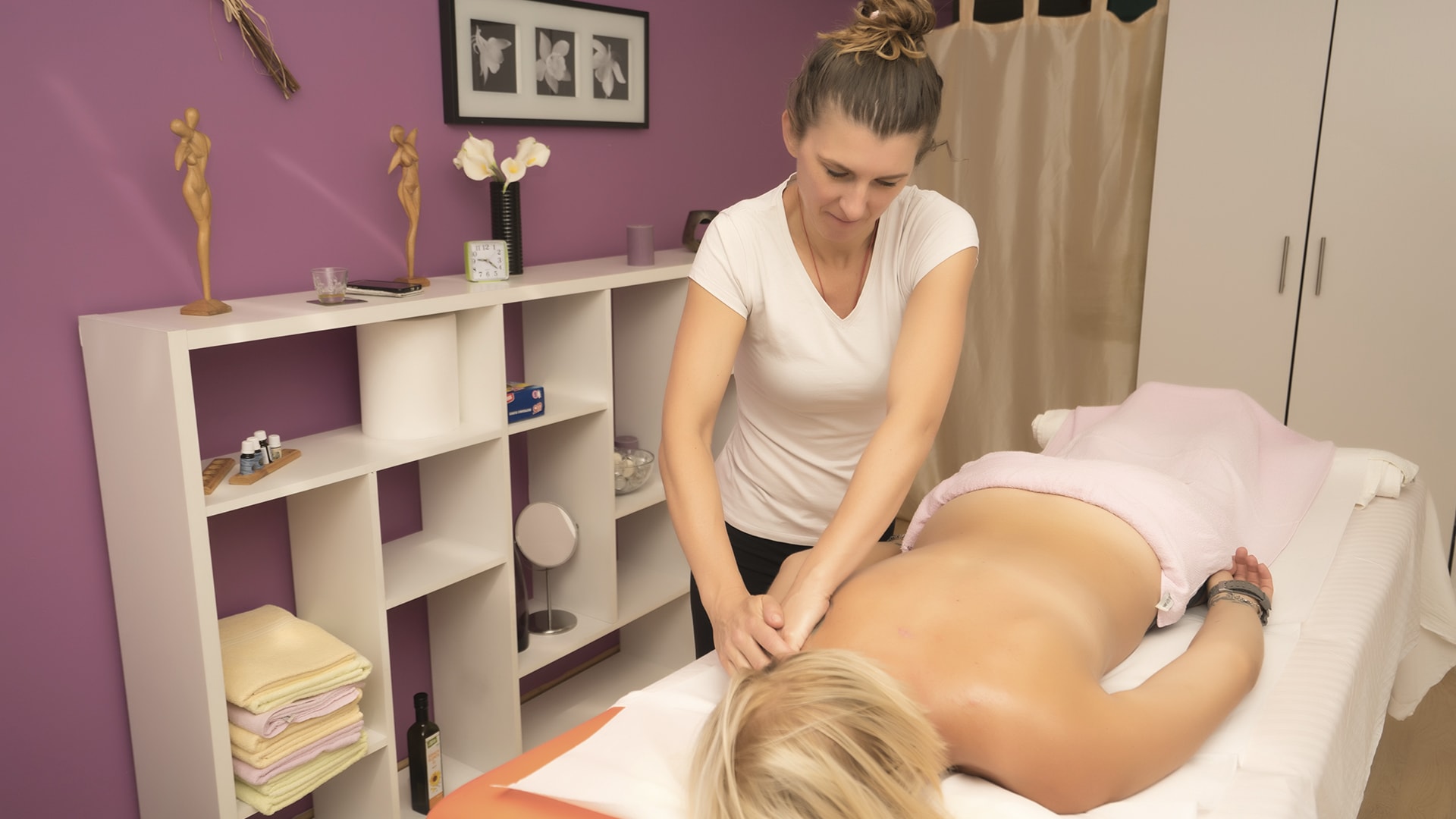 Reactivate your senses by exposing yourself to the forces of nature, and relax your mind and body in the hands of our professional team. Our offer includes a number of massages and aromatherapy massages to start you on your journey to true revitalisation, and we also offer an array of cosmetic facial treatments, pedicure, manicure and hair removal – for beauty that starts within and shows on the outside. For total relaxation visit the Royal Bellamaris studio fitness centre completely free of charge, or enjoy the relaxing experience of the sauna and tanning salon at an additional cost.
Connect with us to reconnect with yourself
Tennis under the pine trees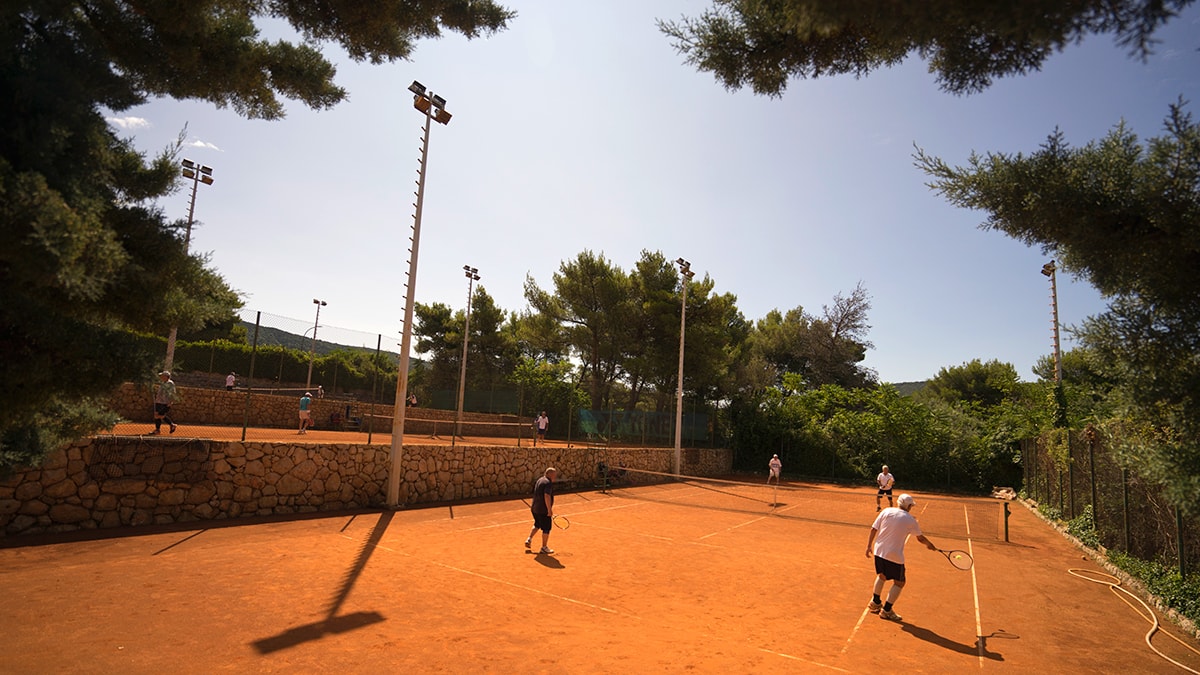 Amateurs and professional players alike can enjoy our tennis courts and spice up their holiday with sports in an inspirational environment – surrounded by pine trees and the scent of the sea. We offer three tennis courts at a price of HRK 60.00 for an hour of intense play. Courts can also be rented to groups if you opt for a group tennis match.
Let the atmosphere inspire you
What lies beneath the surface?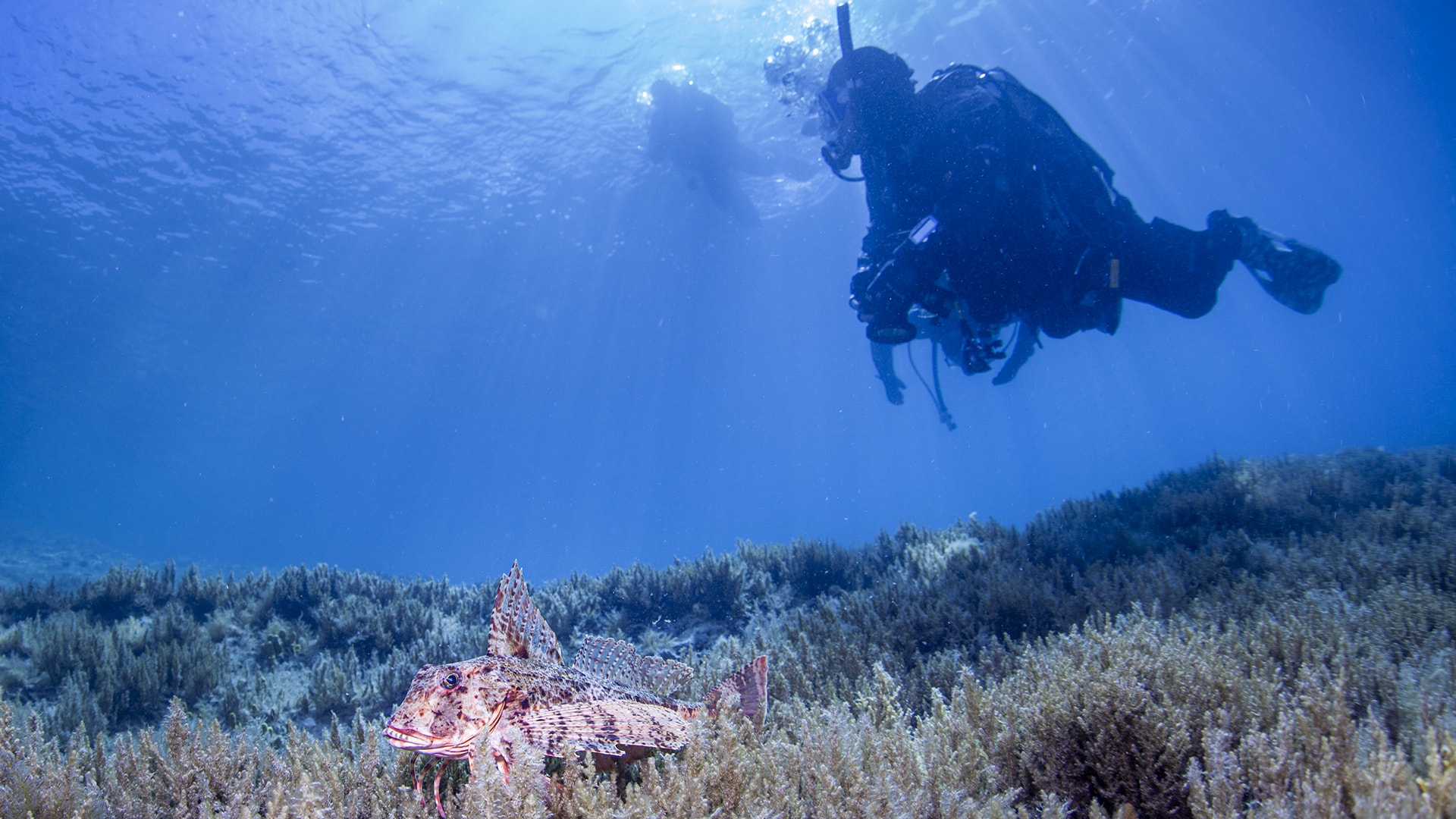 Dive into the water and explore the hidden beauties of the underwater world of Cres by signing up to diving lessons offered by Kovačine Camp, just 600 m away from Kimen Hotel. The wide array of services includes diving using your own or rented equipment, hiring an expert guide so you don't miss any of the underwater locations, exploring the Lina ship wreck, and diving along the beach, from a boat or night diving. Our partners offer both beginners and advanced lessons – available to anyone who wants to explore Cres from a completely different perspective.
Feel the rhythm of nature
Adventure on the open sea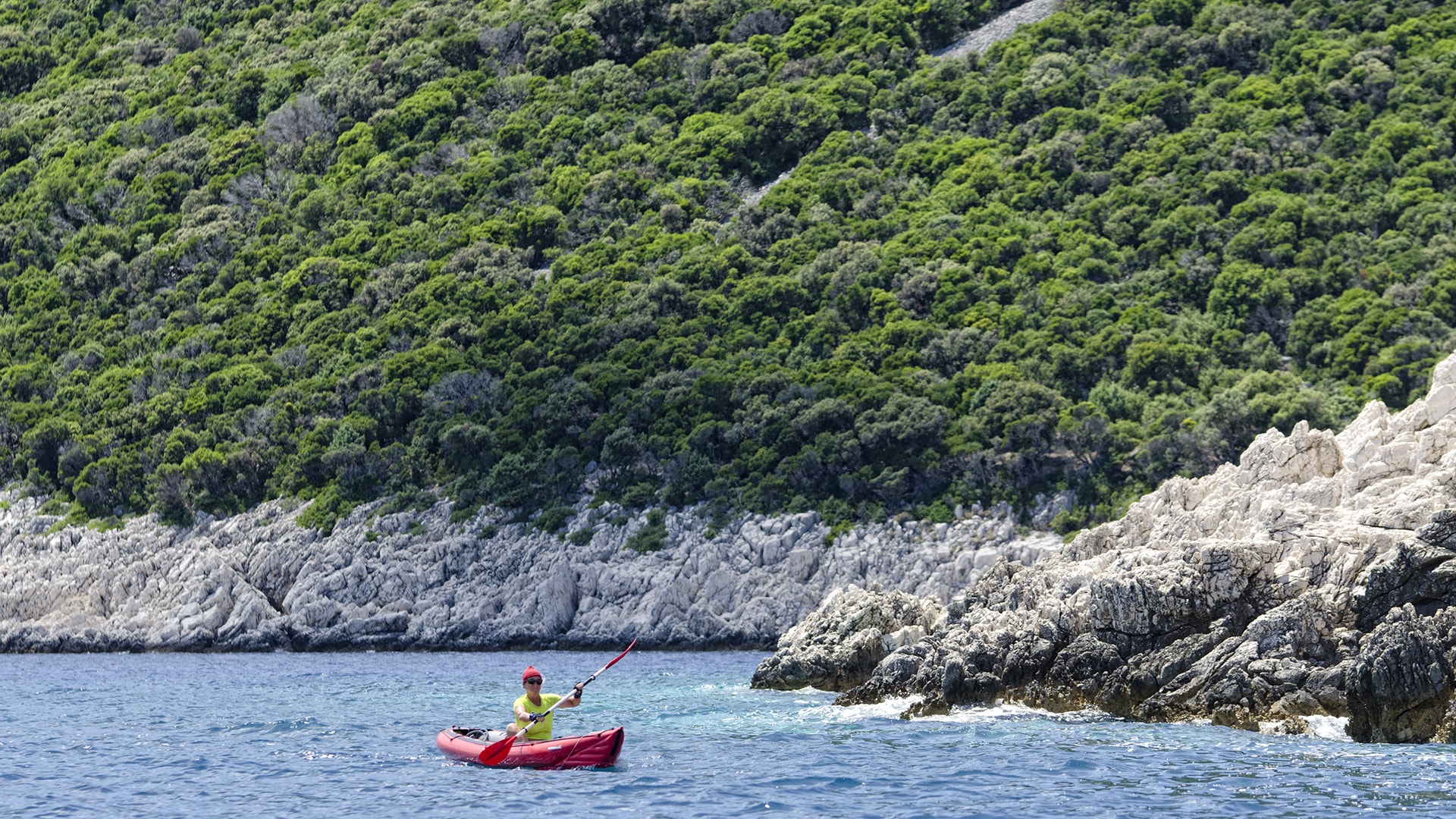 Explore the island from the sea! Join in on a kayak or stand up paddle board tour with an expert guide, hired by our partners, Cres Outdoor Centre, to visit the picturesque fishing village Valun or the most beautiful beach on Cres – the beach of Sveti Blaž. It is also possible to visit the grotto Goluber by stand up paddle board, and if you wish to get some wind and salt in your hair, we recommend a motorboat visit to the beach of Sveti Ivan. Don't let your lack of experience stop you from joining in on a kayak or stand up paddle board tour – we offer courses for all beginners.
We wish you fair winds and calm seas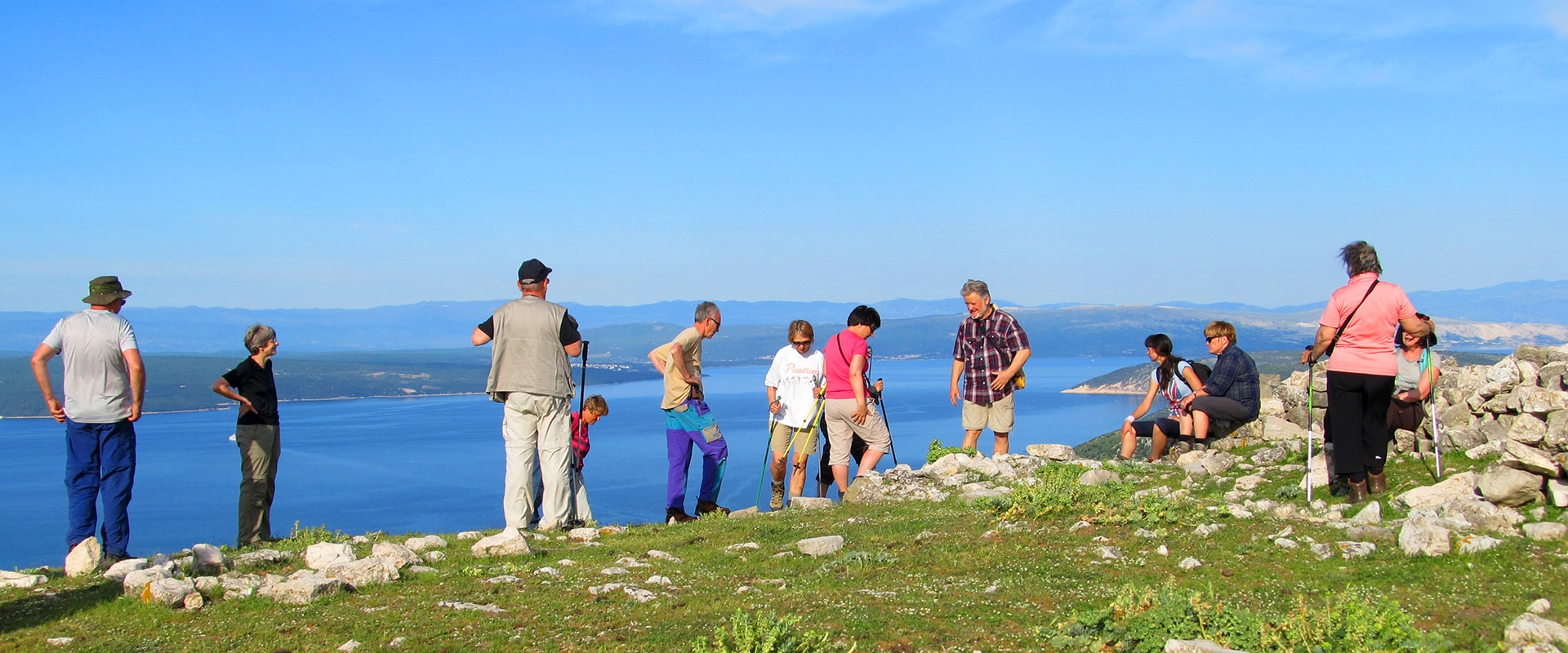 Reviews
About us – from our guests' perspective

A very nice and modern hotel close to the see. Very helpful and friendly personnel, they saw nothing as a problem. Very good English speaking. I can strongly recommend this hotel!

Håkan
Sweden

A peaceful stay while exploring beautiful Cres island!
The hotel is beautiful and situated just off the beach. A very easy walk to the main part of town, and a great"home base" to explore more of the island. The gardens outside made our room feel private and peaceful. Breakfast was outstanding. We loved our stay!

Lynn
United States

Perfect stay for a short holliday on the Island Cres
The staff was very kind and helpfull, Specialy Robert from the reception was very kind and give us a lot of tips to reach the prived beaches! Also the breakfast was good, and the staff was helpfull, you get served at the buffet and after you get served at your table.

Said
Netherlands
All about Kimen Hotel – in one place
Download the digital brochure, flick through our offer and let the images convey at least a glimpse of the island atmosphere.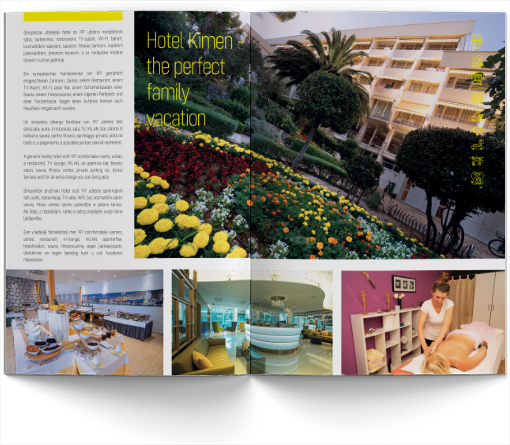 Was gibt es neues in unserem angebot?
Leidenschaft ist der Treibstoff, der uns antreibt, besser zu werden. Wir beachten und befolgen Ihre Wünsche und Anregungen und arbeiten ständig an der Erweiterung unseres Angebots, damit das Hotel Kimen Ihr Zuhause in der Ferne wird. Abonnieren Sie unseren Newsletter, um zu erfahren, was auf der Insel Cres los ist und welche neuen und interessanten Inhalte wir für Sie konzipiert haben.